I'm so excited to be a part of the fabulous Purple Vibes YouTube hop!  From the 21st - 27th of June join a fabulous group of artists around the world who have come together to spread love, good vibes (and a few gifts) and created a smorgasbord of amazing projects, techniques and tip for you all to drool over.   The only requirement is that the project had to be PURPLE (or with PURPLE as the main color). 
For the hop, I'm making something for a very special friend to remind her that she is amazing and to 'Believe in Herself'!  Now I've had MANY MANY MANY conversations with artists all over the world at all levels of experience all on the same topic.  We all doubt ourselves and our art at times - but this is my gift to my friend and my words to you all - Believe in Yourself - YOU are UNIQUE, amazing and worthy! 
So with that in mind, I hope you enjoy my special Purple folding tryptic panel.
You can watch this whole gorgeous process step by step here in this video.
 Or follow the Step by Step instructions below.
Cut matt board pieces to size - 1 large panel (main panel) and 2 smaller panels (sides).  Start by decorating the back of each panel (because it's really hard to do later), cover back of each piece of matt board with Sticky Bark from X-Press It (yes this is real wood!).

Paint the bark with a gesso wash (gesso mixed with water) to tone down the color - you might need up to 4 coats of the gesso wash and then finish by dry brushing white gesso over the surface.  This will give you loads of yummy pattern and brush marks for the nxt step to cling to.
Add matt medium over the top of each panel (both sides and the edges) and spray the back of each panel with Lindy's sprays to turn it purple.  Once the surface is touch dry, add crackle paste around the edges over the top of the Lindy's sprays.  The spray color will be absorbed by the crackle paste in areas and add a hint of color to the paste.
Time to decorate the other side of the panels!
Use matt medium to glue lace onto the reverse side of each panel - this will be the front.  Add matt medium over the lace as well to create a consistent surface.  I added a large piece of lace on the larger panel and small lace strips to each of the side panels.
Add embellishments to the main panel, adhere with glossy accents and wait a few hours for this to dry completely.  Make sure to leave room for your main image and any text you would like to add later.
Paint the front of each panel (the side with the lace) with white gesso.  If you would like any of the brass to show through, wipe the surface with a baby wipe to remove some of the gesso - then leave panel overnight to dry.

Spray gessoed surface with Urban Amethyst spray to add a base layer of color and dry with a heat gun.  Add a little Moonshadow mist spray to give some variety to the base color.
Spray on Toto's Tornado black to add depth to the background and dry with a heat gun.  Then flick and drip on French Lilac Violet and Witch's Potion Purple - the panel needs to be dark enough to allow the later colors to really shine.
Flick and drip on different colors of Lindy's Starburst sprays to add shimmer and color to the panels.  Dry between each color so the panel does not become saturated.
Enhance all the paper flowers with Art Alchemy paint and allow the surface to dry completely.
Then add gold wax paste over the top of the textured elements to pick out the pattern and highlight individual shapes.
Enhance your main image with aqua pastels and add a copper wire circle behind the main image before gluing onto the front panel.

Glue on final words and embellishments to complete the panels. 




 Add ribbon using a hot glue gun, to act as the closure for the tryptic panels and the folding tryptic panel is complete.
 SUPPLIES
Lindy's Sprays (in order of application): Pop Rock Purple, Tea Pot Purple, Urban Amethyst, Moonlit Mulberry, Toto's Tornado Black, French Lilac Violet, Witch's Potion Purple, Tibetan Poppy Teal, Time Travel Teal, Wild Honeysuckle Coral and Cowabunga Copper
Art Alchemy Paint: Frozen Berries, Crocus Fields and Gold Rush
Viva Inka Gold Metallic Wax: Gold
Tim Holtz Ideaology - Chit Chat Stickers
Ranger Opaque Crackle Paste
Jane Davenport: Aqua Pastels
X-Press It Sticky Bark - Cherry
WhichCraft Do You Do: Oil Slick beads and half beads
Matt Board pieces
Lace
White Gesso
Prizes you ask - why yes!
The Purple Vibes YouTube hop is sponsored by 12 craft industry leaders so you can join in the art and the fun.  
To ENTER the giveaway
you must WATCH and
COMMENT on all 12 videos and
SUBSCRIBE to all 12 channels!
And if you love what we have made please share and tag your friends!!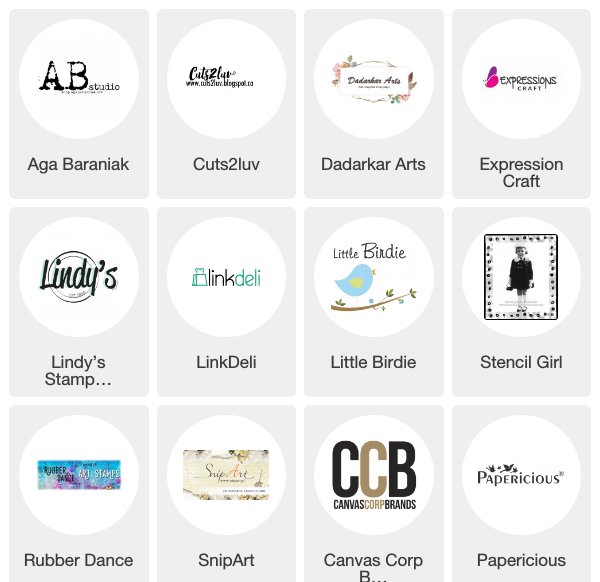 GIFTS from SPONSORS
Expression Craft: 2 x $25 vouchers
Lindy's Stamp Gang: 2 x $25 vouchers
Little Birdie: 2 x $50 value craft goodies kits + shipping
Cuts2luv: 1 x $15 voucher + shipping
SnipArt: 1 x generous craft goodies kit
Aga Baraniak: 1 x generous craft goodies kit
Rubber Dance: 2 x $20 vouchers
Stencil Girl: 1 x $50 voucher
Dadarkar: 1 x generous craft goodies kit + shipping
Linkdeli: 2 x $20 Paypal vouchers
CCB: 1 x $50 voucher
Papericious: 1 x $15 voucher
I hope you have enjoyed my project, now pop over to YouTube and watch the others!  Oh and remember to check in on the 28th of June to see if YOU were one of the lucky WINNERS!
These are the links to all 12 videos, but you can hop from one to the next one using the end screen you'll find at the end of every video:
Phoebe Tonosaki YouTube Link - https://youtu.be/5iQmSLUh2ZE 
Nuneka Box YouTube Link - https://youtu.be/du7pzoJ6zuE  
Sunila Mahajan YouTube Link - https://youtu.be/T5E3v6FNkLM 
Aditi Mahajan YouTube Link - https://youtu.be/pVGBViuEEpE
Dutt Preety YouTube Link- https://youtu.be/CHql2Qd82p4
Riddhi Jani YouTube Link https://youtu.be/iIOYnWimSxs
Heather Thompson YouTube Link https://youtu.be/Vk_PBWVsN24
Natassa Blazaki YouTube Link https://youtu.be/U9PRvgRrD8A
Asia Marquet YouTube Link - https://youtu.be/MJPjmpM7sSk
Kate Palmer YouTube Link - https://youtu.be/xP95W5Cok5Y
Keren Tamir YouTube Link - https://youtu.be/cS-DyKMcJ-Q
Noura Pompilla Mejia - https://youtu.be/uMSWuP6hO80